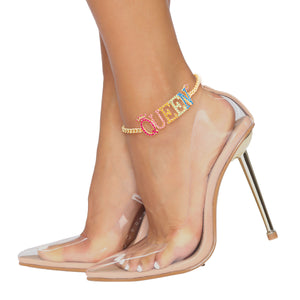 Pinktown
Multi Color Queen Stone Anklet
Sale price Price $28.00 Regular price $35.00 Unit price / per
Introducing the incredible Multi Color Queen Stone Anklet, a must-have accessory for every fashionable woman out there! This stunning ankle bracelet will truly elevate your style and make you stand out from the crowd.
Featuring a gorgeous metal tone in gold, this anklet is made from high-quality metal material, ensuring durability and long-lasting wear. You can trust that this piece of jewelry will be a timeless addition to your collection.
The anklet falls under the jewelry category, specifically designed for those who adore anklets. With its chain, classic, and crown subcategories, you can effortlessly achieve a classy and elegant look with every wear.
This anklet is perfect for casual fashion style, making it a versatile piece that you can easily pair with any outfit. Whether you're heading to a day out with friends or a casual date night, this anklet will complement your overall look flawlessly.
Designed with a convenient lobster closure type, putting on and taking off this anklet is a breeze. No more struggling or wasting precious time getting ready. You can effortlessly enjoy the benefits of this anklet's easy closure.
Crafted as a fashion jewelry type, this anklet embraces the chain, queen, and rhinestone style. The combination of these elements adds a touch of elegance and glamour to your ankle, making it a true statement piece.
This Multi Color Queen Stone Anklet is specifically designed for women who appreciate the finer things in life. With its maximum comfort and captivating design, not only will it enhance your outfit, but it will also boost your confidence.
Don't miss out on this amazing opportunity to own a piece of jewelry that will make heads turn wherever you go. Grab your Multi Color Queen Stone Anklet today and experience the luxury and sophistication it offers!
-